MASKS optional at Holy Trinity.
IF YOU HAVE SYMPTOMS of any illness, please stay home. Although the public dispensation from Mass has not been in effect since August 2021, the sick and medically vulnerable have always been dispensed from the obligation to attend Sunday Mass. If you are ill, elderly, or medically vulnerable in any way, you are urged to continue to take every precaution to keep yourself and others safe.
Fr. Ricardo's message "Why Return to Mass?" available here (hard copies at church).
SACRAMENTAL PREPARATION for First Reconciliation, First Eucharist and Confirmation (fall start dates) Registrations now being accepted. Registration Form.
Resources to help us learn, engage, and walk with Indigenous and non-Indigenous on the journey to truth and reconciliation. One of the best things we can do at this time is to become familiar with the TRC Calls to Action and UNDRIP (United Nations Declaration on the Rights of Indigenous Peoples).
Where to EDUCATE Yourself on the Truth and Reconciliation Commission (TRC) and United Nations Declaration on the Rights of Indigenous Peoples (UNDRIP)
Saskatchewan Indigenous Cultural Centre: https://sicc.sk.ca/


HOLY TRINITY PARISH WELCOMES YOU!
As Catholic Christians, we want to proclaim, celebrate, and live our faith joyfully.
May you find our website a helpful introduction to our parish and its various ministries and services.
Reconciliation - see under Sacraments tab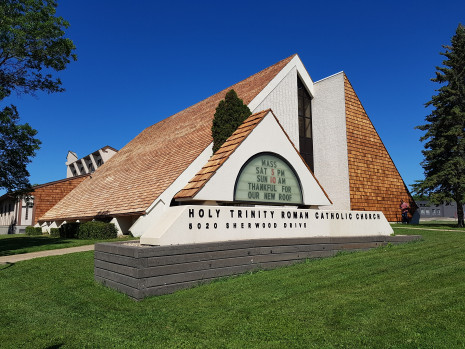 Glory Be To The Father, And To The Son, And To The Holy Spirit, As It Was In The Beginning, Is Now, And Will Be Forever. Amen!