HOLY TRINITY PARISH WELCOMES YOU!
Holy Trinity is a parish where a genuine love of the Lord is alive and well. Our faith family is ready and eager to welcome you and your family with open arms. As Catholic Christians we seek to proclaim, celebrate, and live our faith joyfully and to express our love for Christ in works of charity.
May you find our website a helpful introduction to our parish and its various ministries and services. Please feel free to contact us, or better yet, come and share our prayer and worship!

Glory Be To The Father, And To The Son, And To The Holy Spirit, As It Was In The Beginning, Is Now, And Will Be Forever. Amen!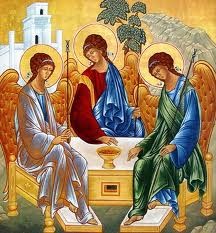 Question of the Week
THIRD SUNDAY IN ORDINARY TIME
Repent and Believe
Reading I Jonah 3:1–5, 10 (conversion of Nineveh)
Reading II 1 Corinthians 7:29–31 (encouragement within a hostile world)
Gospel Mark 1:14–20 (call of the first disciples)
Key Passage: Now after John was arrested, Jesus came to Galilee, proclaiming the good news of God, and saying, "The time is fulfilled, and the kingdom of God has come near; repent, and believe in the good news." (Mark 1:14–15)
Adult: What part of your life is Jesus calling you to change right now?
Child: In what way do you think you can be a better follower of Jesus?