HOLY TRINITY PARISH WELCOMES YOU!
Holy Trinity is a parish where a genuine love of the Lord is alive and well. Our faith family is ready and eager to welcome you and your family with open arms. As Catholic Christians we seek to proclaim, celebrate, and live our faith joyfully and to express our love for Christ in works of charity.
May you find our website a helpful introduction to our parish and its various ministries and services. Please feel free to contact us, or better yet, come and share our prayer and worship!

Glory Be To The Father, And To The Son, And To The Holy Spirit, As It Was In The Beginning, Is Now, And Will Be Forever. Amen!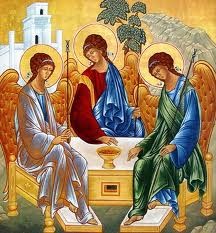 Question of the Week
20th Sunday in Ordinary Time
Promise of Eternal Life
Reading I Proverbs 9:1–6 (forsake foolishness)
Reading II Ephesians 5:15–20 (sing praise to the Lord)
Gospel John 6:51–58 (discourse on the bread of life, continued)
Key Passage Jesus said, "Those who eat my flesh and drink my blood have eternal life, and I will raise them up on the last day." (John 6:54)
Adult How does Jesus' promise of eternal life affect the way you live today?
Child How often do you think about heaven? Does it make a difference in the choices you make?
Question of the Week
21st Sunday in Ordinary Time
Christian Marriage
Reading I Joshua 24:1–2a, 15–17, 18b (reminder of the divine goodness)
Reading II Ephesians 4:32 -5:1-2, 21–32 (Christian wives and husbands)
Gospel John 6:60–69 (effect of the bread of life discourse)
Key Passage This is a great mystery, and I am applying it to Christ and the church. Each of you, however, should love his wife as himself, and a wife should respect her husband. (Ephesians 5:32–33)
Adult In what way has the example of Christian marriage (your own or that of another couple) helped you understand the relationship between Christ and his church?
Child What can you do for your family to show them Jesus' love and care?
Question of the Week
22nd Sunday in Ordinary Time
Doers of the Word
Reading I Deuteronomy 4:1–2, 6–8 (advantages of fidelity)
Reading II James 1:17–18, 21–22, 27 (response to God's gift)
Gospel Mark 7:1–8, 14–15, 21–23 (Jesus and the Pharisees)
Key Passage Welcome with meekness the implanted word that has the power to save your souls. But be doers of the word, and not merely hearers who deceive themselves. (James 1:21–22)
Adult Which words of Jesus provide the most inspiration for the Christian work that you do?
Child How do you welcome the words of Jesus into your heart?