HOLY TRINITY PARISH WELCOMES YOU!
Holy Trinity is a parish where a genuine love of the Lord is alive and well. Our faith family is ready and eager to welcome you and your family with open arms. As Catholic Christians we seek to proclaim, celebrate, and live our faith joyfully and to express our love for Christ in works of charity.
May you find our website a helpful introduction to our parish and its various ministries and services. Please feel free to contact us, or better yet, come and share our prayer and worship!

Glory Be To The Father, And To The Son, And To The Holy Spirit, As It Was In The Beginning, Is Now, And Will Be Forever. Amen!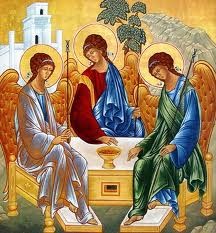 Question of the Week
FIRST SUNDAY OF LENT
A Change of Heart
Reading I Genesis 9:8–15 (covenant with Noah)
Reading II 1 Peter 3:18–22 (the purpose of Christ's suffering)
Gospel Mark 1:12–15 (Jesus' temptation; the Angels waited on him)
Key Passage For Christ also suffered for sins once for all, the righteous for the unrighteous, in order to bring you to God. (1 Peter 3:18)
Adult: When or how could you step away from your daily responsibilities to renew yourself, so that you can do a better job of following in the footsteps of Jesus?
Child: What good habit could you work on during Lent so you could grow closer to God?