HOLY TRINITY PARISH WELCOMES YOU!
Holy Trinity is a parish where a genuine love of the Lord is alive and well. Our faith family is ready and eager to welcome you and your family with open arms. As Catholic Christians we seek to proclaim, celebrate, and live our faith joyfully and to express our love for Christ in works of charity.
May you find our website a helpful introduction to our parish and its various ministries and services. Please feel free to contact us, or better yet, come and share our prayer and worship!

Glory Be To The Father, And To The Son, And To The Holy Spirit, As It Was In The Beginning, Is Now, And Will Be Forever. Amen!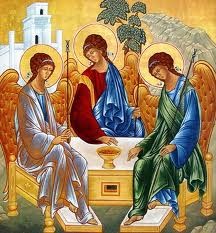 Question of the Week
PALM SUNDAY OF THE PASSION OF THE LORD
Surrender to God's Will
Procession Mark 11:1–10 (entry into Jerusalem) or John 12:12–16
Reading I Isaiah 50:4–7 (salvation only through the Lord's servant)
Reading II Philippians 2:6–11 (imitating Christ's humility)
Gospel Mark 14:1—15:47 (the passion of Jesus)
Key Passage: Jesus said, "Abba, Father, for you all things are possible; remove this cup from me; yet, not what I want, but what you want." (Mark 14:36)
Adult: When have you found it hardest to accept God's will? What enabled you to accept it?
Child: When is it hardest for you to obey?