HOLY TRINITY PARISH WELCOMES YOU!
Holy Trinity is a parish where a genuine love of the Lord is alive and well. Our faith family is ready and eager to welcome you and your family with open arms. As Catholic Christians we seek to proclaim, celebrate, and live our faith joyfully and to express our love for Christ in works of charity.
May you find our website a helpful introduction to our parish and its various ministries and services. Please feel free to contact us, or better yet, come and share our prayer and worship!

Glory Be To The Father, And To The Son, And To The Holy Spirit, As It Was In The Beginning, Is Now, And Will Be Forever. Amen!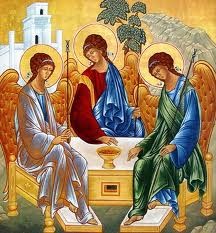 Click here for registration form
Don't be disappointed! Register early as we filled up last year and had to turn people away.
Question of the Week
Fifth Sunday of Easter
Strengthening Your Faith
Reading I Acts 9:26–31 (Saul visits Jerusalem)
Reading II 1 John 3:18–24 (the actions of believers)
Gospel John 15:1–8 (the vine and the branches)
Key Passage [The vine grower] removes every branch in me that bears no fruit. Every branch that bears fruit he prunes to make it bear more fruit. (John 15:2)
Adult: When have you been "pruned" by your experiences in a way that led to greater abundance?
Child: When have you felt stronger or better because you did something hard to help another person?