HOLY TRINITY PARISH WELCOMES YOU!
Holy Trinity is a parish where a genuine love of the Lord is alive and well. Our faith family is ready and eager to welcome you and your family with open arms. As Catholic Christians we seek to proclaim, celebrate, and live our faith joyfully and to express our love for Christ in works of charity.
May you find our website a helpful introduction to our parish and its various ministries and services. Please feel free to contact us, or better yet, come and share our prayer and worship!

Glory Be To The Father, And To The Son, And To The Holy Spirit, As It Was In The Beginning, Is Now, And Will Be Forever. Amen!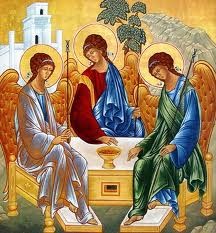 Click here for registration form
Don't be disappointed! Register early as we filled up last year and had to turn people away.
Question of the Week
10th Sunday in Ordinary Time
Love for All
Reading I Genesis 3:8–15 (the fall)
Reading II 2 Corinthians 4:13–5:1 (paradox of the ministry)
Gospel Mark 3:20–35 (Jesus and Beelzebul; Jesus and his family)
Key Passage Jesus said, "Whoever does the will of God is my brother and sister and mother." (Mark 3:35)
Adult In what way could you widen the circle of your family to include someone in need?
Child Whom could you invite to share a happy time with your family?
11th Sunday in Ordinary Time
Living In God's Kingdom
Reading I Ezekiel 17:22–24 (prophecy of the restoration of Israel)
Reading II 2 Corinthians 5:6–10 (walking by faith)
Gospel Mark 4:26–34 (seed grows by itself and the mustard seed)
Key Passage: Yet when [the mustard seed] is sown it grows up and becomes the greatest of all shrubs, and puts forth large branches, so that the birds of the air can make nests in its shade. (Mark 4:32)
Adult What is the "good soil" that has allowed your faith to grow like the mustard seed and provide shelter for others?
Child How do you help your faith grow like the mustard seed?