HOLY TRINITY PARISH WELCOMES YOU!
Holy Trinity is a parish where a genuine love of the Lord is alive and well. Our faith family is ready and eager to welcome you and your family with open arms. As Catholic Christians we seek to proclaim, celebrate, and live our faith joyfully and to express our love for Christ in works of charity.
May you find our website a helpful introduction to our parish and its various ministries and services. Please feel free to contact us, or better yet, come and share our prayer and worship!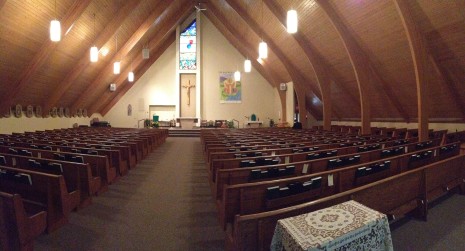 Question of the Week
Third Sunday of Lent
Source of Light
Reading I 1 Samuel 16.1b, 6-7, 10-13 (Samuel anoints David)
Reading II Ephesians 5.8-14 (duty to live in the light)
Gospel John 9.1-41 (the man born blind)
Key Passage: For once you were darkness, but now in the Lord you are light. Live as Children of light—for the fruit of the light is found in all that is good and right and true. (Ephesians 5.8–9)
Adult:
What are you doing in your life right now to move toward light rather than darkness?
Child:
How can you let the light of your faith in Jesus shine for others to see?
Glory Be To The Father, And To The Son, And To The Holy Spirit, As It Was In The Beginning, Is Now, And Will Be Forever. Amen!