HOLY TRINITY PARISH WELCOMES YOU!
Holy Trinity is a parish where a genuine love of the Lord is alive and well. Our faith family is ready and eager to welcome you and your family with open arms. As Catholic Christians we seek to proclaim, celebrate, and live our faith joyfully and to express our love for Christ in works of charity.
May you find our website a helpful introduction to our parish and its various ministries and services. Please feel free to contact us, or better yet, come and share our prayer and worship!

Glory Be To The Father, And To The Son, And To The Holy Spirit, As It Was In The Beginning, Is Now, And Will Be Forever. Amen!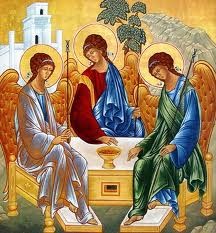 Click here for registration form
Don't be disappointed! Register early as we filled up last year and had to turn people away.
Question of the Week
Acting With Courage
Reading I Acts 2:1–11 (descent of the Holy Spirit)
Reading II 1 Corinthians 12:3b–7, 12–13 (many gifts, one Spirit, and the analogy of the body)
Gospel John 15:26-27; 16.12-15 (the Spirit of truth will guide you)
Key Passage: Divided tongues, as of fire, appeared among them, and a tongue rested on each of them. All of them were filled with the Holy Spirit and began to speak in other languages, as the Spirit gave them ability. (Acts 2:3–4)
Adult: When has the Holy Spirit given you the strength to act with courage?
Child: When and where do you need the Holy Spirit's help to speak out?