Weekend of May 15 & 16 - a few spots available at 9 am Sunday. Email bookhtrinitymass@sasktel.net
Monday, May 24 Mass now at 7 am (doors open 6:30 am)


HOLY TRINITY PARISH WELCOMES YOU!
As Catholic Christians, we want to proclaim, celebrate, and live our faith joyfully.
May you find our website a helpful introduction to our parish and its various ministries and services. Please feel free to contact us, especially during this time of isolation and changes in permissible Masses. Masks mandatory effective Nov. 6, 2020.
Information re: Masses - with the continued restrictions, we are permitted only 30 per Mass. All requests are acknowledged with confirmation of attendance or other Mass time options.
***IF YOU ARE EXPECTING AN EMAIL RESPONSE, PLEASE CHECK YOUR SPAM FOLDER. We have been sending replies and not getting confirmation, so please check your Spam or Junk Email folder of your Inbox.
Holy Trinity Masses: IF YOU HAVE SYMPTOMS of any illness, please stay home. WEEKDAY MASS attendance - pre-booking not needed. Register at door with phone #.
ATTENDANCE AT WEEKEND MASSES must be pre-booked by email to bookhtrinitymass@sasktel.net no later than Thursday NOON. Your request will be acknowledged. Please check your Spam or Junk Email folder.
CHANGES to accommodate controls for public worship. Pews are marked so that households are sitting 2 metres (6 feet 6 inches) apart. Seating will be done front to back. You will be directed to a section by a staff member or volunteer. Please walk on (not beside) the black line in the aisles.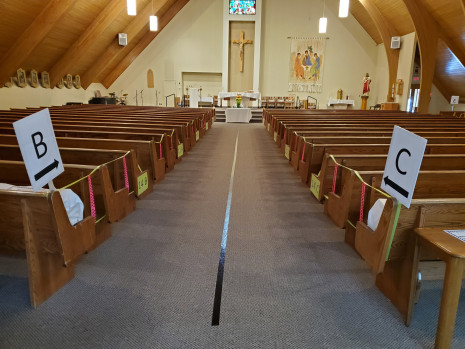 Whichever aisle you enter will be the same way you go to receive Eucharist, and also to exit the church. To exit, the back rows will leave first. Please maintain social distancing during the time you are in the church or parking lot.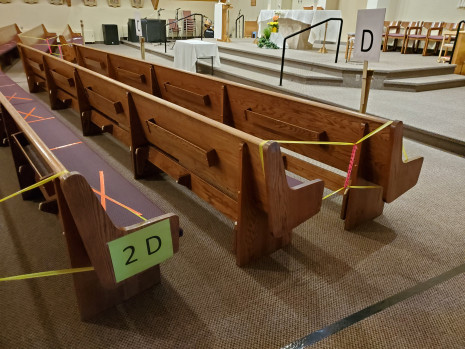 Eucharist will be consecrated on the table on the main floor. Come forward to receive Eucharist as a household, using the aisle you came in.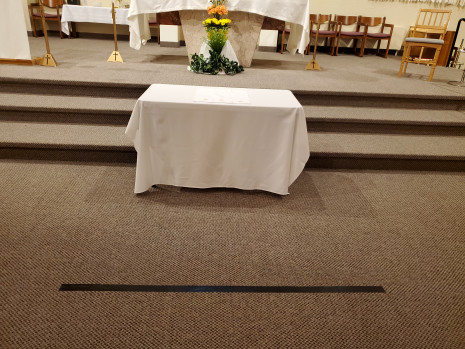 Approach the table (staying behind the black line) until Father says "Body of Christ". Respond "Amen"; go to the table and pick up one host, step back and consume. Return to your pew by the same route. All parishioners remain standing until all have received.
Thank you for your patience as we work through these new procedures together.
Reconciliation - see under Sacraments tab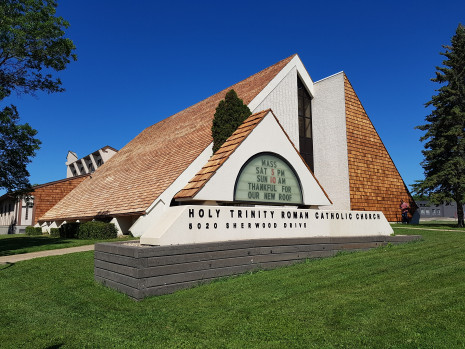 Glory Be To The Father, And To The Son, And To The Holy Spirit, As It Was In The Beginning, Is Now, And Will Be Forever. Amen!