HOLY TRINITY PARISH WELCOMES YOU!
Holy Trinity is a parish where a genuine love of the Lord is alive and well. Our faith family is ready and eager to welcome you and your family with open arms. As Catholic Christians we seek to proclaim, celebrate, and live our faith joyfully and to express our love for Christ in works of charity.
May you find our website a helpful introduction to our parish and its various ministries and services. Please feel free to contact us, or better yet, come and share our prayer and worship!

Glory Be To The Father, And To The Son, And To The Holy Spirit, As It Was In The Beginning, Is Now, And Will Be Forever. Amen!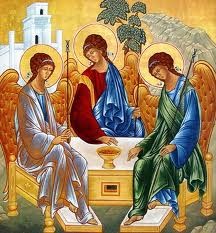 Bible Studies This Fall!
For Information contact: For more information contact Phyllis: 306-949-1709; Joanne: 306-545-2758.
James: Pearls for Wise Living
An 11-part Bible Study featuring Jeff Cavins -- Mondays, 9:15 a.m. (September 10-November 26)
Mark: Faith Not Fear
A 14-part Bible Study featuring Tim Gray -- Sundays, 7:00 p.m.
(October 14-November 25; 2 segments/evening)
Question of the Week
28th Sunday in Ordinary Time
Danger of Riches
Reading I Wisdom 7:7–11 (Solomon and the riches of wisdom)
Reading II Hebrews 4:12–13 (God's living word)
Gospel Mark 10:17–30 (the danger of riches—Jesus and the rich man)
Key Passage Jesus said, "It is easier for a camel to go through the eye of a needle than for someone who is rich to enter the kingdom of God." (Mark 10:25)
Adult How can the pleasures and comforts of this world become barriers to your relationship with God?
Child What favorite toy, game, video, etc., of yours would you be willing to share with someone this week?