HOLY TRINITY PARISH WELCOMES YOU!
Holy Trinity is a parish where a genuine love of the Lord is alive and well. Our faith family is ready and eager to welcome you and your family with open arms. As Catholic Christians we seek to proclaim, celebrate, and live our faith joyfully and to express our love for Christ in works of charity.
May you find our website a helpful introduction to our parish and its various ministries and services. Please feel free to contact us, or better yet, come and share our prayer and worship!

Glory Be To The Father, And To The Son, And To The Holy Spirit, As It Was In The Beginning, Is Now, And Will Be Forever. Amen!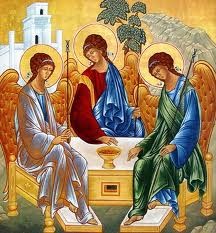 "Follow Me" — Meeting Jesus in the Gospel of John
Holy Trinity Bible Study Monday mornings--8 part DVD series with
Dr. Edward Sri, January 7 to February 25 .
Following Christ takes more than simply believing in him or doing what he asks of us. Jesus wants you to be more than just a believer — he wants you to be his disciple and friend. "Follow Me: Meeting Jesus in the Gospel of John" is a guide to a personal encounter with Christ. This series invites you to experience the joy of a renewed friendship with Christ. Optional study guide approximately $30. For more information & to register: Phyllis 306-949-1709 or Joanne 306-545-2758 or sign the list in the Gathering Area.
Question of the Week
Second Sunday of Ordinary Time
Thinking of Others
Reading I Isaiah 62:1–5 (Jerusalem the Lord's bride)
Reading II 1 Corinthians 12:4–11 (variety and unity)
Gospel John 2:1–12 (the wedding at Cana)
Key Passage: When the wine gave out, the mother of Jesus said to him, "They have no wine." (John 2:3)
Adult: When have you stepped in, as Mary did at Cana, to try and make a difficult situation easier for someone?
Child: What can you do this week to help make someone's job a little easier?