HOLY TRINITY PARISH WELCOMES YOU!
Holy Trinity is a parish where a genuine love of the Lord is alive and well. Our faith family is ready and eager to welcome you and your family with open arms. As Catholic Christians we seek to proclaim, celebrate, and live our faith joyfully and to express our love for Christ in works of charity.
May you find our website a helpful introduction to our parish and its various ministries and services. Please feel free to contact us, or better yet, come and share our prayer and worship!

Glory Be To The Father, And To The Son, And To The Holy Spirit, As It Was In The Beginning, Is Now, And Will Be Forever. Amen!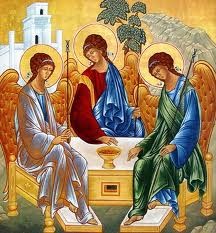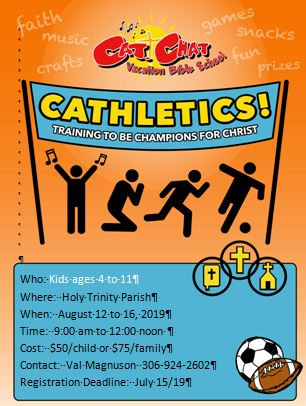 A FEW SPOTS AVAILABLE -- CONTACT VAL
SACRAMENTAL PREPARATION
2019-2020
Parents of children in Grade 2 and up for the 2019/2020 school year you can now register your child for the sacraments of Confirmation, First Holy Communion, and First Reconciliation. Classes will begin Sunday, September 22, immediately following the 11 am Mass. The parent orientation meeting will be held Thursday, September 12, 2019, at 7:00 pm in the Church. The deadline to register your child for the sacraments is this date. The cost for registration is $50/child or $75/family. The class schedules have been posted on our website under the sacraments tab. For more information or to register, please contact Val Magnuson, Pastoral Assistant, at 306-924-2602.
Sacramental Preparation registration form here.
Question of the Week
16TH SUNDAY OF ORDINARY TIME
Holy Visitors
Reading I Genesis 18:1–10a (Abraham's visitors)
Reading II Colossians 1:24–28 (the mystery: Christ in us)
Gospel Luke 10:38–42 (Martha and Mary)
Key Passage: Jesus said to Martha, "There is need of only one thing. Mary has chosen the better part, which will not be taken away from her." (Luke 10:42)
Adult: Which response to God's call is more natural to you—prayer or action? Why?
Child: In the past week, when have you prayed and when have you done good things for others? Which could you do better?