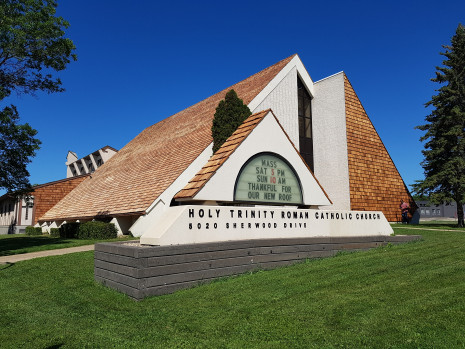 Holy Trinity Parish History
Holy Trinity Parish was established in September 1967 from the western portion of St. Peter's Parish. The parish began with 550 families. Land for the church was purchased in 1968, however St. Mary's School gym was used for worship until the fall of 1974 when the church building was opened with the basement becoming the hall. Some of the furnishings for the church such as the Altars, Stations of the Cross, and the Statue of the Virgin Mary were obtained from the chapel of the former Grey Nuns' Hospital (Pasqua Hospital) which had been sold to the government.
During the formation of the parish in 1968, a Men's Club and CWL were founded. Both organizations were instrumental in providing other furnishings and equipment for the church building. During this period, north-west Regina grew rapidly and the parish saw the construction of St. Joan of Arc and St. Josaphat Schools within the parish boundaries.
The parish served approximately 1600 families at this time, and it was decided to form a new parish within Holy Trinity's territory. Holy Family on McCarthy Blvd. was created from the northern boundary in 1979. Two schools, St. Bernadette and St. Jerome, became part of Holy Family Parish. At the time, Holy Trinity contributed $75,000 towards the formation of this new parish.
The year 1993 saw the addition of offices, meeting rooms, an elevator, and gathering area to the original church building. At the same time, the interior of the church was turned around with the sanctuary now on the east end of the building and the main entrance relocated to the west side of the building. The hall was also expanded with additional washrooms and storage space.
Parish Priests
Rev. Eldon McGrath - 1967-1971
Rev. Arthur Vandendriessche - 1971-1976
Rev. James Weisgerber - 1976-1979
Rev. Richard Krofchek - 1977-1979
Rev. Walter Wadey - 1979-1989
Rev. Ken Miller - 1989-2000
Rev. Paul Dungan - 2000-2006
Rev. Richard Jasiak - 2006-2012
Rev. Ron Andree - 2012-2019
V. Rev. Lorne Crozon, V.G. - 2019-2022
Rev. Ricardo Escalante, Oct. 1, 2020-Feb. 2021 (Associate Pastor)
Feb. 2021-July 2022 Acting Pastor Biography Interview
Vocation Story
Why Return to Mass (July 2021)
Rev. Gaspar Lucas, SVD effective August 1, 2022
Mass Schedule
English
Wed

8:30am

Thu

8:30am

Fri

8:30am

Sat

5:00pm

Sun

9:00am

,

11:00am

Mon
No Mass
Tue

7:00pm
Vietnamese
All Services